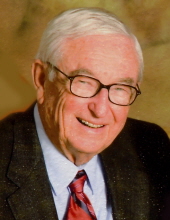 Obituary for John Calvin Parrott, Jr.
John Calvin Parrott Jr., the son of J.C. and Hazel (Cousins) Parrott, was born September 13, 1919, in Exira, Iowa and died June 12, 2016, at the Northridge Village Retirement Home in Ames, Iowa at the age of 96 years, 8 months, and 29 days.
John was baptized and confirmed at the First Methodist Church in Audubon. He attended Audubon Community Schools, graduating with the High School Class of 1937. He attended Wentworth Military Academy from 1938-1939 where he was Captain of the track team and participated in the high jump and pole vault events. He also played the trombone in the band and a dance band. From there he enrolled in Iowa State University in 1939 and graduated with a Bachelor of Science Degree in Poultry Husbandry in 1942. He participated in the Iowa State Marching Band and the Basketball Pep Band and lettered in the high jump and pole vault events with the track team. He was a member of the Phi Gamma Delta Fraternity while at ISU.
On October 19, 1942 he was united in marriage to Florence Mae Bamsey at her family's home in Audubon. They were an inseparable couple until Flo passed away on May 30, 2008.
He served four years in the Army during WWII as an Anti-Aircraft Officer stationed in New Port, Rhode Island. He was a battery commander of a 90MM AA Artillery Battery in the Eastern Defense Command.
Returning home from the service on April 3, 1946, he entered into the Audubon Produce Company with his father and became sole owner in 1955. After 60 years of service, the Audubon Produce Co. was closed in 1979. Shortly thereafter he became employed by the Audubon State Bank. He served on the Board of Directors of the bank from 1972 until he retired at the end of 2011.
He was active in Boy Scouts since 1946 serving in every volunteer position for Troop 103. He touched the lives of many young men on their way to achieving the rank of Eagle Scout. He received the Silver Beaver Award, the highest scouting award presented at the local level.
He also participated in many local civic and religious boards, including the Board of Education, Chamber of Commerce, T-Bone Club and First Presbyterian Church. He received the Audubon Community Service Award in 1963. Having a great love of horses, John rode with the Horse Mounted Patrol of the ZaGaZig Shrine known as the "Mounties."
Preceding him in death were his wife Florence Mae; his son Jeffry Ray Parrott; his great-grandson Christopher Frandsen; his brother Milton and his sister LaVona and husband Emery Martinsen; his brothers-in-law and sisters-in-law Gertrude Elizabeth and husband Harlan Klever, Alice Louise Bamsey, and Raymond Laverne Bamsey.
Survivors include his son John Calvin (Cal) Parrott III and his wife Frances of Ames, IA; his granddaughters: Callie Ann and husband Kevin Bower of Kansas City, MO; Alisa Nell and husband Matt Frandsen of Ames, IA; Amanda Mae and husband Andrew Pals of West Des Moines, IA; Molly Elizabeth and wife Allie Parrott of Ames, IA; his great-grandchildren: Cole, Katie, Luke and Evan Bower of Kansas City, MO; Ali, Meredith, Joey and Grant Frandsen of Ames, IA; Drew and Aubrey Pals of West Des Moines, IA; his nephews: Bill Martinsen and wife Jane of Norman, OK and John Martinsen and wife Geri of Bellevue, WA; other relatives and friends.
Funeral services will be conducted by Reverend Roger Todd on Wednesday, June 15, 2016, at 11:00 A.M. at the First Presbyterian Church in Audubon, Iowa. Interment will be in the Maple Grove Cemetery in Audubon, Iowa. The honorary casket bearers will be the great grandchildren. The casket bearers Andrew Pals, Matt Frandsen, Kevin Bower, Lyle H. Hansen, Jr., Gene Karstens, and Robert Clark. The family will meet with friends Wednesday morning from 10:00 A.M. until the time of the service at the First Presbyterian Church in Audubon, Iowa.
Previous Events
Visitation
First Presbyterian Church
Audubon, Iowa 50025
Service
First Presbyterian Church
Audubon, Iowa 50025
Cemetery Details
Location
Maple Grove Cemetery
Audubon, Iowa 50025