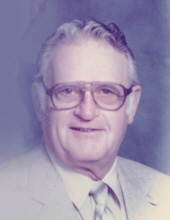 Obituary for Dale Mason Edwards
Dale Mason Edwards, the son of Roy and Gretta (Yager) Edwards, was born November 13, 1924, at his parents' home near Moore, Montana and died December 3, 2017, at the Friendship Home in Audubon, Iowa at the age of 93 years and 20 days.
Dale was baptized in Montana. He began his education riding a horse to the Seewright rural school near their home in Montana until the age of 13 when the family moved to Viola Center, Iowa. Dale then attended the Viola Center School graduating with the High School Class of 1942. He drove truck for H.P. Jorgensen until he was inducted and entered active duty into the U.S. Army on January 22, 1945 during World War II. Before reporting to duty Dale was united in marriage to Ruth Campbell on January 8, 1945, at the Methodist Parsonage in Audubon, Iowa. During their marriage they were blessed with three sons Jim, Jeff, and Greg. Dale left for the service and during his tour of duty he served as a medic stateside being stationed in Tacoma, Washington and later Battle Creek, Michigan. Dale was honorably discharged on September 5, 1946 and returned to the Audubon area. He was employed by Franck Brothers for a short time and then delivered seed corn for Carlson Seed Company. In 1948, Dale and Ruth rented and operated a farm near Viola, Iowa and later in 1952 purchased their own farm in Viola Township. They raised livestock and grew row crops. Dale was and an innovator and a progressive thinker. While continuing to farm Dale also developed his own fertilizer business called Edwards Chemco which pioneered the use of anhydrous ammonia and delivered to the Audubon, Guthrie Center, and Dedham areas until 1972 during this time he also owned and operated J.J. & G Texaco gas station in Audubon for a few years. In 1968 he and a partner purchased the Twin Lakes Lookout south of Ft. Dodge, Iowa which was a roller skating rink/ nightclub which they sold in 1977. Dale was one of the first to promote ethanol as a fuel for automobiles. In fact he had plans to start his own ethanol distillery with the assistance of an old bootlegger from Templeton but the plan failed when the Distiller died. Dale and Ruth retired from farming and moved into Audubon in 1978.
Dale was a life-long member of the First United Methodist Church in Audubon, Iowa. He was a 50 year member of Audubon Veritas Lodge #392 AF and AM and the Za-Ga-Zig Shrine. He was a member of American Legion Post #120, Audubon, Iowa. He served on the Viola School Board, the Audubon County Fair Board, and was a long time member of the Audubon Chamber of Commerce. While on the Fair Board he was instrumental in building the race track and raising funds to pave the parking lot at the Agri-Hall. He was the MC for many community events and also helped to raise funds for the John James Audubon statue in the City Park. He enjoyed bowling, playing golf, and having coffee with friends at the Hamburger Shop and later the Chatterbox Café. No matter where he traveled or who he met he was always a huge promoter of Audubon. Dale loved spending time with his family, but most of all he loved being involved in all the activities of his grandchildren.
Preceding him in death were his sons James M. Edwards and Greg Edwards; his parents; his brothers and sister, his twin brother Gail Edwards, William Edwards, Roydon and wife Teresa Edwards and Wanita Farnham; his father-in-law and mother-in-law Fred and Mabel Campbell; his brothers-in-law Willian and wife Margaret Campbell, Louie and wife Mayme Campbell, and Robert Campbell.
Survivors include his wife of nearly 73 years Ruth Edwards of Audubon, Iowa; his son Jeff and wife Susan Edwards of Audubon, Iowa; his grandchildren Jessica and husband Rich Baker of Coon Rapids, Iowa, Matt and wife Tracy Edwards of Ankeny, Iowa, Kellie and husband Dave Geater of Simpsonville, South Carolina, Tahara and husband D.J. Norton of Clive, Iowa, Tracie and husband Stephen Jochum of Boone, Iowa, and Brett Edwards of Lincoln, Nebraska; his great grandchildren Hannah, Emily, Cassidy, and Jace Baker of Coon Rapids, Iowa, Caroline, Calista, and Camryn Edwards of Ankeny, Iowa, Kaleb and Megyn Geater of Simpsonville, South Carolina, Connor and Sienna Norton of Clive, Iowa; his brother Ron and wife Sue Edwards of Ankeny, Iowa, his sisters-in-law Harriett Campbell of Audubon, Iowa and Barbara Edwards of Clarion, Iowa; nieces, nephews, other relatives and many friends.
The family will meet with friends Friday evening, December 8, 2017, at 5:00 p.m. at the Kessler Funeral Home in Audubon, Iowa. Funeral services will be conducted by Pastor Kathy Kluis on Saturday morning, December 9, 2017, at 10:30 a.m. at the First United Methodist Church in Audubon, Iowa. Interment will be in the Maple Grove Cemetery in Audubon. The honorary casket bearers will be Jessica Baker, Tahara Norton, Tracie Jochum, and Kellie Geater. The casket bearers will be Jeff Edwards, Matt Edwards, Brett Edwards, D.J. Norton, Stephen Jochum, and Rich Baker.
Previous Events
Visitation
Kessler Funeral Homes, Inc. - Audubon
515 South Division Street
Audubon, IA 50025
Service
First United Methodist Church
Audubon, Iowa 50025
Cemetery Details
Location
Maple Grove Cemetery
Audubon, Iowa 50025