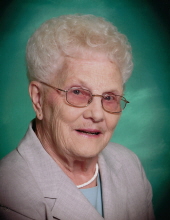 Obituary for Ruth M. Olsen
Ruth Marie Olsen, the daughter of Einer C. and Clara (Gregersen) Rasmussen, was born November 26, 1930, at her parents' home in Exira, Iowa and died December 21, 2017, at the Exira Care Center in Exira, Iowa at the age of 87 years and 25 days.
Ruth was baptized and confirmed at the Exira Lutheran Church in Exira. She attended rural Audubon County schools and graduated from the Exira High School with the Class of 1949.
On November 20, 1949, she was united in marriage to Lester Olsen at the Exira Lutheran Church in Exira. They were blessed with 5 children Frank, Patty, Steve, Reginald, and Mary. They owned and operated a farm northeast of Audubon, Iowa where they grew row crops and raised livestock. Ruth was a very hard worker and helped Lester farm, doing chores and working outside. Later and along with farming they owned and operated the Southside Lounge in Dedham, Iowa. In 1992 Ruth moved into Audubon, Iowa. She was employed at various jobs over the years including Food Pride, Casey's, and was a dishwasher at the Audubon Community Schools. Ruth loved working with the public and was disappointed when she had to retire due to her advanced years.
Ruth's faith was very important to her as she was a member of the First United Methodist Church in Audubon, Iowa. She had many years of perfect attendance and could be found in the same pew every Sunday morning. She enjoyed dancing, playing cards, and entertaining her friends. Ruth also loved to travel and enjoyed many bus trips to Branson, Missouri and her cruise to Alaska.
Preceding her in death was her parents; her infant son Reginald; her great granddaughter Kate Griffith; and her special friend Ben Klocke.
Survivors include her children Frank and wife Carol Olsen, Patty and husband Gary Umland, all of Audubon, Iowa, Steve and wife Sherri Olsen of Ashland, Nebraska, and Mary and husband Tom Grote of Audubon, Iowa; her ten grandchildren Kristie and husband Troy Bruun of Wichita, Kansas, Tara Hansen, Heather and husband Andy Griffith, and Chris Bylund all of Audubon, Iowa, Steph Umland of Council Bluffs, Iowa, Dustin Durbin and partner Billy Halverson of LaVista, Nebraska, Rachel and husband Jerad Tjaden of Waukee, Iowa, Cody Olsen of Ashland, Nebraska, Megan and husband Dustin Veldhuizen of Oskaloosa, Iowa, and Matt and wife Amy McLaughlin of Audubon, Iowa; her 14 great grandchildren Kaley, Maddie, and Ellie Bruun, Abbie Ericksen, Grady Hansen, Alex Merk, Emma, Brenna and Aiden Griffith, Devin Tjaden, Carter Krohn, Holden, Madden, and Peyton Veldhuizen; her brother Roger and wife Carol Rasmussen of Sidney, Iowa; her sister-in-law Lowene Christensen of Carroll, Iowa; nieces, nephews, other relatives and many friends.
The family will meet with friends Friday evening, January 5, 2018, from 5:00 p.m. to 8:00 p.m. at the Kessler Funeral Home in Audubon, Iowa. Funeral services will be conducted by Pastor Kathy Kluis on Saturday, January 6, 2018, at 11:00 a.m. at the First United Methodist Church in Audubon, Iowa. Interment will be in the Exira Cemetery in Exira, Iowa. The honorary casket bearers will be her granddaughters Kristie Bruun, Tara Hansen, Heather Griffith, Steph Umland, Rachel Tjaden, Megan Veldhuizen, and Amy McLaughlin. The casket bearers will be her grandsons Chris Bylund, Matt McLaughlin, Cody Olsen, Troy Bruun, Andy Griffith, Dustin Durbin, Jerad Tjaden, and Dustin Veldhuizen.
Previous Events
Visitation
Kessler Funeral Homes, Inc. - Audubon
515 South Division Street
Audubon, IA 50025
Service
First United Methodist Church
Audubon, Iowa 50025
Cemetery Details
Location
Exira Cemetery
Exira, Iowa 50076