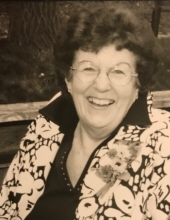 Obituary for Lois Marie Oakley
Lois Marie Oakley, the daughter of Forest (Jack) Wiley and Hazel (Knox) Hutchins, was born February 11, 1927, at her parents' home in Bear Grove Township, Guthrie County, Iowa and died peacefully December 23, 2017, at the Friendship Home in Audubon, Iowa at the age of 90 years, 10 months, and 12 days.
Lois attended the First Christian Church in Audubon and later as an adult became a member of the First United Methodist Church in Audubon. She attended rural schools in both Guthrie and Audubon Counties, and then graduated from the Audubon High School with the Class of 1944.
On August 24, 1945, she was united in marriage to George Oakley, Jr. at the Christian Church in Logan, Iowa. They were blessed with three children Roxanne, David, and Jill. Lois worked various jobs over the years before she was employed in the Audubon County Recorder's office. Lois worked for over 24 and half years in the Recorder's office spending 16 years as the County Recorder. She loved her job and enjoyed the many new people she met.
Lois was a member of the First United Methodist Church in Audubon. She loved nature and spent many hours hunting for walnuts, mushrooms, or just out taking a walk. Lois enjoyed golfing, playing cards, and bowling. Lois and George enjoyed traveling across the United States and wintered at their home in Florida for several years. She was an avid politician, loved to host parties, was a great cook, and made delicious desserts. But most of all she enjoyed time with her family and friends who felt blessed to have her love.
Preceding her in death was her husband George; her parents; her brother Dean Hutchins; her sisters Lucille and husband Alfred Baier and Doris and husband Harold Akers; her brothers-in-law and sisters-in-law: Kathy Hutchins, JoAnn Hutchins, Dorothy and husband Frank Schmidt, Norma and husband Paul Norris, James and wife Mary Oakley, Howard Oakley, Allen Oakley, and Lloyd Oakley.
Survivors include her children Roxanne and husband George Meyer of Plymouth, Wisconsin, David and wife Vicky Oakley of Deltona, Florida, and Jill and husband Jay Kazlow of Marietta, Georgia; her grandchildren Kristin (Bill) Rooker of Plymouth, WI, Leslie Paulsen and husband Chris Purvis of Newnan, GA, Michael (Vicki) Paulsen of Glenview, IL, Peter (Allison) Paulsen of DePere, WI, Anne (Scott) Spraberry of South Weber, UT, Bronwen (Sergio) Jurado of Casselberry, FL, Charity (Chris) Peterson of Deland, FL, Daniel Oakley of Deltona, FL, Justin (Megan)Bowman of Altadena, CA, Jordan Kazlow of Dallas, TX, Jacob Kazlow of Atlanta, GA: her step grandchildren Jeff Meyer of Minneapolis, MN, Pamela Bell of Escondido, CA; 17 great grandchildren; 2 great-great grandchildren; her brothers Frank Hutchins of Norwalk, IA, C.W. "Bill" (Marlene) Hutchins of Elliston, IA, Gary (Rhonda) Hutchins of Roswell, NM; her sisters-in-law Carma Hutchins, Geneva Oakley, and Janice Oakley all of Audubon, IA; nieces, nephews, other relatives and friends.
The family will meet friends Friday morning from 9:30 a.m. until the time of the service at the First United Methodist Church in Audubon. Funeral services will be conducted by Pastor Kathy Kluis on Friday, January 5, 2018, at 11:00 a.m. at the First United Methodist Church in Audubon, Iowa. Interment will be in the Maple Grove Cemetery in Audubon, Iowa. The casket bearers will be Michael Paulsen, Scott Spraberry, Peter Paulsen, Jay Kazlow, Jacob Kazlow, and Bill Rooker.
Previous Events
Visitation
First United Methodist Church
Audubon, Iowa 50025
Service
First United Methodist Church
Audubon, Iowa 50025
Cemetery Details
Location
Maple Grove Cemetery
Audubon, Iowa 50025